2022 CCEF Call for Abstract
2022剑桥中国教育论坛摘要征集
The Cambridge China Education Forum (CCEF) is an organisation initiated by students from the Faculty of Education at the University of Cambridge. Under the guidance of the Faculty, we are committed to bridging education in China and in the world. It will take the form of keynote speeches, breakout sessions and workshops. The aim of this forum is to facilitate discussion and support for educational practice in China among researchers, practitioners and the wider communities.
剑桥中国教育论坛 (CCEF) 是由剑桥大学教育系学生发起的学生组织。在剑桥大学教育系的指导下,我们致力于建立起中国教育与世界沟通的桥梁。我们每年在剑桥大学举办年度论坛和系列线下线上活动。年度论坛以主旨演讲、分论坛、研习会的形式展开,旨在促进学者、行业从业者、以及社会各界人士对中国教育的讨论和对教育实践的支持。

2022 CCEF will be held online on the 23th (Saturday) and the 24th (Sunday) of July 2022 (UTC).
第四届剑桥中国教育论坛将在2022年7月23日(周六)到7月24日(周日)于线上举行。
Platform: Tencent Meeting, Voov Meeting (English Version)
线上举办平台:腾讯会议,VooV Meeting(英文版)
THEME: Transitioning to the New Normal: Educational Reforms in the Post-pandemic Era.
主题:聚焦教育新前沿——疫情新常态中的教育变革
This year's forum theme is Transitioning to the New Normal: Educational Reforms in the Post-pandemic Era. This forum will invite scholars and practitioners from China and other countries to discuss the following four aspects of educational reforms in the post-pandemic era:
2022年剑桥中国教育论坛的主题为聚焦教育新前沿——疫情新常态中的教育变革。本次论坛将邀请国内外学者和实践者从以下四个方面围绕疫情新常态下的教育变革进行探讨:
• 教育公平(Education and Equality)
• 教学、学习与课程(Teaching, Learning and Curriculum)
• 生命、权利与教育(Life, Power and Education)
• 教育与福祉(Education and Wellbeing)
In order to diversify the content of the forum, this year's CCEF also features a Young Researchers Panel. The aim of this panel is to provide opportunities for early-career researchers and practitioners to present their work and to facilitate exchanges of knowledge and experience.
为了呈现更加丰富多元的论坛内容,本届论坛还特别设有青年学者分论坛。此板块旨在为青年学者和一线实践者提供展示机会,促进知识的交流和经验分享。
Call for Abstract for Early-Career Researchers Panel
The Early-Career Researchers panel at CCEF is now open for abstract submissions. This call for abstract is open to undergraduate and postgraduate students, early-career researchers, and educators, regardless of their affiliation, occupation or educational level. There is no registration fee for submissions.

At this year's forum, we hope to address three key issues:
1. What are the implications of the pandemic for equity, inclusion and innovation in education?

2. How can we embrace opportunities and challenges in the post-pandemic era?
3. What new social actors have emerged in the world of education as a consequence of the pandemic?
We hope that your abstract submission will echo the above issues and the theme of the forum.
青年学者分论坛开始征稿!
即日起,2022剑桥中国教育论坛青年学者分论坛开放摘要征集。此次征稿无所属单位、职业、学历等限制,我们诚邀广大本硕博学生群体、青年学者、以及教育工作者投稿参与。投稿无需报名费。

在今年论坛的主题背景下,我们将关注以下三个关键问题:
1. 疫情对教育公平、包容、创新有什么影响?
2. 我们如何面对后疫情时代的机遇和挑战?
3. 疫情促使了教育领域中哪些社会行动者的涌现?

我们希望您所递交的摘要能够聚焦以上的问题以及本届论坛主题。

Guidelines for Submission
Please submit your abstract by 23:59 UK Time, 24 April 2022, using this form:
https://qfreeaccountssjc1.az1.qualtrics.com/jfe/form/SV_6Szko3iUWiDBpSC
The requirements for submissions are:
1. The abstract should be written in English with no more than 250 words.
2. Please list 3 to 5 keywords to summarise your abstract.
3. Please also include a bio of 100 words maximum to introduce yourself.
If you are unsure about writing an abstract for conferences, below is a brief guide on how to structure an abstract. (Image from: https://thesislink.aut.ac.nz/?p=6446)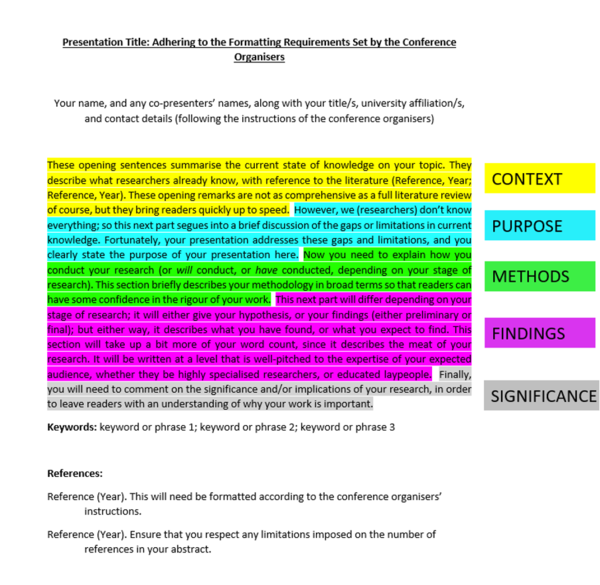 The submitted abstracts will be reviewed anonymously by our academic team under the criteria based on academic standards, originality and relevance to the forum's theme. If your abstract is admitted by the committee, your contribution to the forum will be a 15-minute presentation. The presentation should be delivered in English.

提交指南
提交摘要的截止日期为2022年4月24日(周日)英国时间23:59。
提交方式如下:
https://qfreeaccountssjc1.az1.qualtrics.com/jfe/form/SV_6Szko3iUWiDBpSC
1. 点击链接进入报名表
2. 在报名表中填写个人信息(姓名、邮箱、所属单位;如有多名作者,请全部填写)
3. 在相应区域附上标题和摘要。摘要需以英文书写,字数上限为250个英文单词
4. 请列出3-5个关键词总结摘要内容
5. 请用第三人称填写一段不超过100字的个人简介(如果您的摘要入选,该简介将用于论坛材料中)
为了帮助大家了解摘要书写的结构,以下为大家提供一个参考案例。(图片来源:https://thesislink.aut.ac.nz/?p=6446)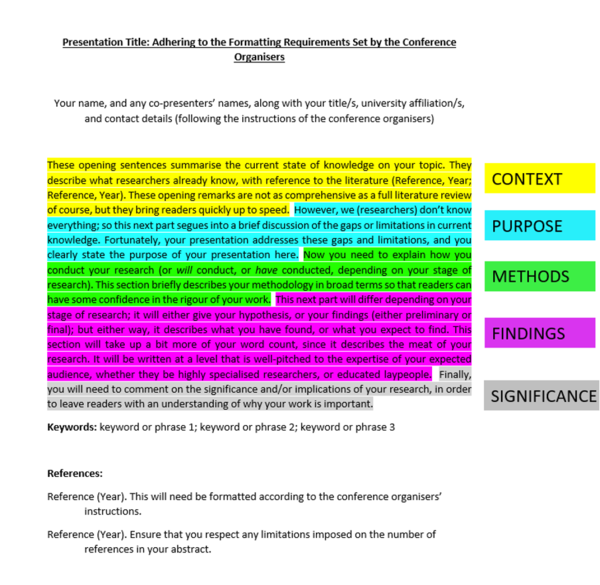 您所提交的摘要将由专业学术团队进行匿名审议。审议标准主要依据为学术水平、独创性、以及与本届论坛主题的契合性。摘要一经录用我方会与投稿者联系安排注册及演讲宣读相关事宜。入选名额有限,请欲参会者尽快提交摘要。发表形式:15分钟报告展示,演讲须以英文进行。
Key Dates
Submission deadline: 23:59 UK Time, 24 April 2022
Notification of acceptance: Around 15 May 2022
If you have any enquiries regarding the forum or abstract submissions, please feel free to email us at camccef@gmail.com
重要日期
截稿时间:2022年4月24日(周日)英国时间 23:59
通知入围时间:2022年5月15日(周日)左右